DR BILL BELL: CLIN PSY. D.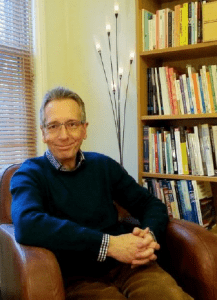 Bill is a Chartered Clinical Psychologist, registered with the British Psychological Society (BPS) and the Health and Care Professions Council (HCPC) as a Practitioner Psychologist. He is a qualified Psychotherapist in Cognitive Analytic Therapy (CAT) and a registered Practitioner in Eye Movement Reprocessing & Desensitisation Therapy (EMDR). Bill has over 17 years NHS experience, primarily in Community Mental Health Teams working with adults who have a range complex mental health problems.
Bill established an independent clinical practice in 2016, and has also since been working with voluntary sector organisations including St Basil's, where he is an Associate.
QUALIFICATIONS AND EXPERIENCE
Psychotherapist & Supervisor Accreditation (CAT) 2016;
Eye Movement Desensitisation and Reprocessing Therapy (EMDR) 2012;
Postgraduate Diploma in Cognitive Analytic Therapy (CAT) 2004
Doctorate in Clinical Psychology 1998
Expert Assessment and Psychotherapy with individuals who have mild to severe mental health problems including the consequences of childhood trauma, interpersonal issues, adult trauma, Anxiety Disorders, Depression, Personality Disorders.

Bill's approach is integrative and he draws on a range of therapeutic approaches in his assessments and treatment sessions including CAT, EMDR and aspects of CBT. The initial sessions are an opportunity to develop a shared understanding of your difficulties and to develop a plan for treatment. He will talk through therapy options and which might be most suitable for you.

Supervision of other Clinical Psychologists, allied health professionals and care staff including Support Workers. Individual & Group Supervision including reflective practice.
Teaching and Training in areas including working with personality disorder, Psychologically Informed Environments (PIE) and reflective practice. He has taught aspects of Cognitive Analytic Therapy at Birmingham, Warwick and Bath Universities and was on the steering group of the West Midlands CAT Practitioner Training Course.
Dr Melanie Snape: Clin. Psy. D
Melanie started working in the NHS in 1992, qualified as a Clinical Psychologist in 1996 and afterwards worked in the NHS across services in Birmingham and Solihull.
Originally having experience working with older people, Melanie then went on to develop expertise in psychology services for adults of working age in Community Mental Health Teams. She became a Consultant in 2007 and took a lead in developing initiatives for the provision of psychology services in the inner city. Doing this gave her a wealth of clinical experience in working with a large range of clinical presentations including Depression, Anxiety disorders, Eating Disorders, Psychosis and Personality disorders. Melanie has a long held interest in Post-Traumatic Stress Disorder which is her clinical specialism and the area she has researched and provided specialist supervision and training for. Melanie has been a qualified EMDR practitioner since 2009.
Melanie gained a post-graduate diploma in Cognitive Therapy from Oxford University in 2001 and since then has provided teaching and supervision to trainee Clinical Psychologists and CBT practitioners on courses at The University of Birmingham. She has worked as an academic tutor and visiting lecturer and was involved in the CBT programme since it first started in Birmingham. She is an accredited Behavioural and Cognitive Psychotherapist with the BABCP.
Dr Natalie Southall: Clin. Psy. D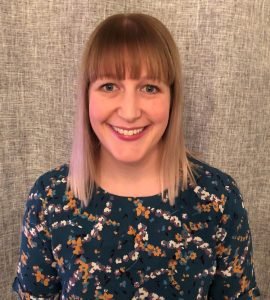 Natalie is a Chartered Clinical Psychologist with the British Psychological Society (BPS) and a Registered Practitioner Psychologist with the Health and Care Professions Council (HCPC).  Natalie has been working in psychological services since 2004 and qualified as a Clinical Psychologist in 2011.  She is a qualified Practitioner in Cognitive Analytic Therapy (CAT).
Natalie has worked in a number of different services, with people facing a range of challenges.  Natalie works with clients whose difficulties include stress and anxiety, relationship difficulties, depression, issues relating to early life experiences, low self-esteem, adjustment to physical health problems and disabilities and personality difficulties.
Alongside her work in the NHS, Natalie offers Cognitive Analytic Therapy (CAT) privately in Stone, Staffordshire.  Sessions are offered on a weekday evening.
CAT is an integrative therapy which draws on a range of psychological theories.  It places the relationship at the heart of therapy.  CAT is a very collaborative approach, in which the client and therapist work together towards the client's goals.  The therapy starts with developing a shared understanding of the problems being faced and how they developed.  CAT then explores how the pain or difficulty being experienced can be recognised and alleviated.  In her CAT work, Natalie draws on ideas from a range of therapies, such as Cognitive Behavioural Therapy, Compassion Focussed Therapy and mindfulness.  CAT therapy is commonly 8, 16 or 24 sessions long, depending on the person's needs and the nature of the difficulties that brought them to therapy.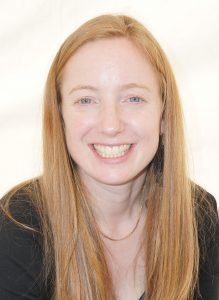 Amy is a Clinical Psychologist registered with the Health and Care Professions Council (HCPC) as a Practitioner Psychologist. Amy has worked in psychological services within the NHS for over 15 years, encompassing a range of different clinical settings with individuals and their families across all age ranges. She currently works in a community service with adults experiencing mental health difficulties.
Amy has experience of working in a number of different modalities, including Cognitive Behavioural Therapy (CBT). She works in an integrative way in her current practice, drawing on a range of different approaches to best meet the individual's need. Amy has a particular interest in Experiential Dynamic Therapy (EDT) and has completed a 3-year core training in this approach accredited by the International Experiential Dynamic Therapy Association (IEDTA). EDT is a collaborative approach which focuses on the importance of experiencing rather than avoiding feelings. When feelings are blocked, this can lead to a range of symptoms or presenting problems, such as anxiety and depression. Paying attention to emotions and developing capacity to experience them, can help the individual to become more connected to what is important in their lives and enabling them to act in ways that are more in line with this. This approach can also help to develop a stronger sense of self and in turn deeper, more connected relationships with others.
Amy works with a broad range of difficulties including (but not limited to) anxiety, stress, depression, low self-confidence and self-esteem, relationships difficulties, difficulties relating to early life experiences. She also works with psychological difficulties arising from physical health problems, including medically unexplained symptoms/somatic problems and chronic pain.
Clients seeing Amy are invited to meet her at one of two venues, in Solihull or Knowle; both venues are 7 minutes from Junction 5 of the M42.